Forgot admin password windows 7 – How to Reset?
"I forgot my admin password on my Windows 7 laptop, and I cannot get into my computer without password. I have no idea what to do to remove or reset my password. Help please! Thanks in advance." – Jenny, from Microsoft MSDN community.
Forgot admin password on windows 7? Is it big trouble for you?  Don't worry. No mater how strong the password is, We can reset it easily with reset disk or software, and it just need a few clicks.
1. Reset Windows 7 admin password with another account or reset disk
When forget your admin password, you should have a think that whether you can login your windows with another account, or you have created a reset disk before.
Use administrator account to reset password for other accounts
An account who has administrator level power, has the right to change, reset and remove password for any user account on Windows 7 system. Sometimes, the main administrator with empty password is enable, however it is not shown on log on screen, so you can try to log in with the main administrator account. If you can login with an administrator account, you can follow the following steps to get around the forgotten password.
Step 1: Open User account Management panel: Start | Control panel | User Accounts and Family Safety | User Account (or paste "Control Panel\User Accounts and Family Safety\User Accounts" on address box of explorer to open it.)
Step 2: Choose a User Account: Click the user account picture to open the user account.
Step 3: Reset forgotten password for the user account: On the left panel, click Change Password, enter new password, confirm the new password, and then click Change Password to set a new password to the selected account.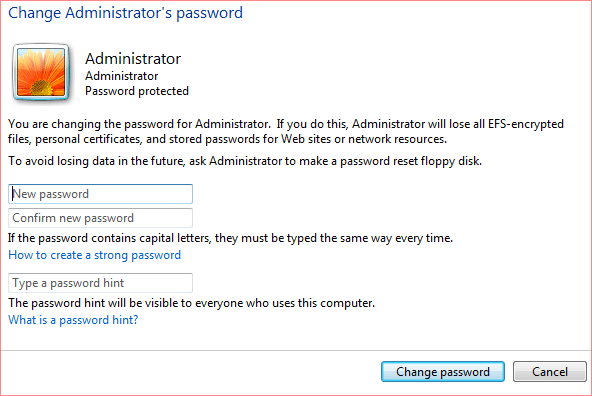 Reset admin password by reset disk
If luckily you have a reset disk on hand, you can reset the lost password for any account on your windows 7 system as well. Boot your windows 7 to log on screen, attempt to login with any password, and you will get the error message and tips to reset the password for locked user. Of course, you can see the step by step guide here Reset lost password with reset disk.
2. Reset forgotten admin password with software
This method shows you how to reset Windows 7 admin password with Spower Password Reset Tool. Spower Password Reset Tool is a powerful program which can help you reset the lost password for Windows 8/7/vista/xp and Windows server 2012/2008/2003/2000.
Simple steps to use Spower software to reset a win 7 password:
1. Get Spower software and install it on an accessible computer.
2. Start Spower software and use it to create a bootable windows 7 admin password reset disk.
3. Boot the locked computer from the bootable disk.
4. Reset lost password with Spower software.
For step by step guide, you can refer to: How to use Spower Windows Password Reset Professional
3. Recover windows 7 forgotten password with ophcrack
If the methods above do not work for you or you don't like to use then, Ophcrack is another good choice. As I know, Ophcrack is the only one program which can recover (retrieve) the lost password for Windows 7 and other windows system. You can use it to create a boot disk, and the boot disk to boot your windows 7 computer. When Ophcrack live disk boot successfully, Ophcrack will search all user accounts on your computer, and it will try to recover the passwords for those user account.
Simple guide:
1. Download Ophcrack live cd and burn it to a CD Disc or USB flash disk.
2. Boot your computer from Ophcrack disk.
3. Wait for Ophcrack to recover the lost password. It will take about 15 minutes to 30 minutes.
Tips: Ophcrack may not find your Windows system, or it will fail to recover the password for some user account. If this happen to you, you can try the way mentioned on this article: Ophcrack doesn't work on windows 7 and win 8, how do i do?
Other ways to solve the problem:
You may don't like to get around the problem by yourself, if so,  you can take your computer to computer store to be repaired by computer technician. Or you  ask for help from your friends or family。
To avoid forgetting your windows 7 admin password and getting into trouble again, I suggest you create a password reset disk while you can access to your computer via administrator account.
Related Articles: