Forgotten Laptop password recovery
Forgot login password to your laptop? And cannot get into your laptop to get your job working? Don't upset. And don't make a decision that format hard drive and reinstall operating system immediately. This article shows you a way to recover laptop login password with windows password reset software, which will help you solve the problem and save much time for you.
Steps to recover laptop login password
1. Download Spower Windows Password Reset software (Trial Version) and install it to a windows computer.
2. Create a password recovery disk with the password software. Insert USB flash drive or CD/DVD disc, and then click the "Burn to USB" or "Burn to CD/DVD" button to make a password recovery disk.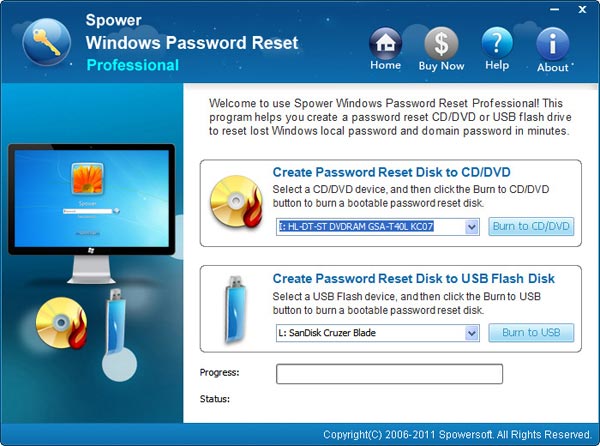 3. Set the locked laptop to boot from USB drive or CD/DVD-ROM. If have trouble in setting your laptop to boot from USB or CD-ROM, please refer to the following guide:
4. Boot the locked laptop from password recovery disk. Insert password recovery disk to the locked laptop and restart laptop.
5. When password reset software starts, select a windows user from list, and click "Reset" button to set a new password to it.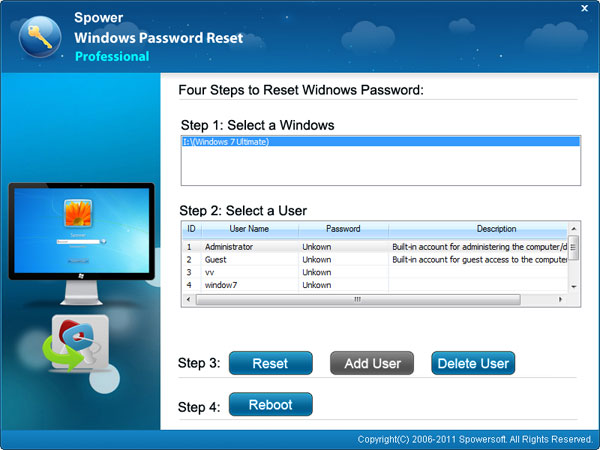 6. Click  "Reboot" button to restart your laptop and log on with new password.
Related Articles: