How to break Windows 8 password if forgot
Forgot windows 8 login password and locked out of your computer? Don't to be worry. I will tell you how to break administrator password in windows 8 and get into your computer without reinstalling system.
Two efficient ways to help you to get rid of your windows 8 password and open your computer if forgot login password.
1. Break Windows 8 password with Spower password reset tool.
Spower password reset tool is an easy to use password recover software which can help you break windows 8 administrator password in a few minutes. Step as follow:
Step 1: Download and install Spower password reset tool to an accessible computer.
Step 2: Insert USB flash drive or CD/DVD disc to computer.
Step 3: Start Spower Windows password reset Tool, and use it to create a bootable windows 8 password reset disk.
Step 4: Boot the locked Windows 8 computer from Spower password reset disk. For more detail about setting your computer to boot from USB or CD/DVD drive, you can refer to How to set your comptuer (laptop) boot from CD/USB drive quickly.
Step 5: Break windows 8 password with Spower software.
When Spower software starts, choose a  windows 8 user account, and then click "Reset" to remove its password.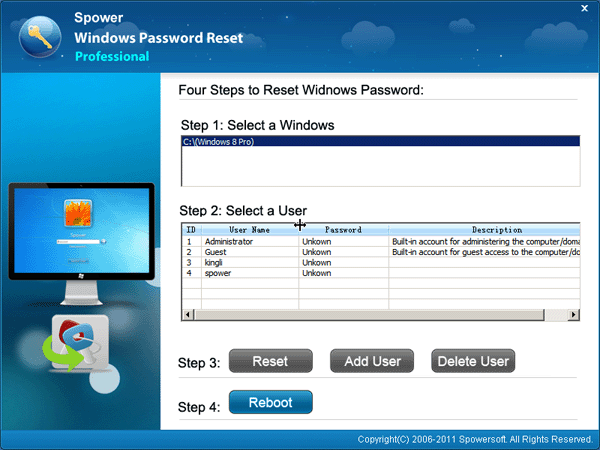 Step 6: Restart windows 8 computer, and login your computer without password.
2. Reset Windows 8 login password with password reset software Chntpw.
Chntpw is a free and open source password program which can help you reset lost password for windows 8/7/vista/xp quickly.
Steps to use Chntpw to break windows 8 password:
Step 1: Download chntpw.
Step 2: Unzip Chntpw and burn it to a CD/DVD disc. Note: You must use a ISO image burn software to burn it to CD/DVD disc, instead of copy it to CD/DVD disc via Windows Explorer.
Step 3: Set your locked windows 8 computer to boot from chntpw boot disk.
Step 4: When Chntpw runs, you can see a black and white screen, and then you can follow the instructions to remove the password for locked users.
4.1 Choose the partition where windows 8 is installed in.
4.2 Choose "Remove windows user password".
4.3 Choose a windows 8 user account whose password you want to remove.
4.4 Save change to registry. Please remember to save the change, or it do nothing for you.
4.5 Quit Chntpw and reboot computer.