How to hack Windows Server 2008 administrator password
I missed my Windows Server 2008 r2 administrator password. Can i do a hack to recover the lost password and get into my computer? Yes! It is definitely you can, and it is easy. This article will describe how to hack into a windows server 2008 with or without password tools.
Method 1: Hack a windows server 2008 administrator password with software.
A great mount of software can hack a Windows Server 2008 user password, such as chntpw, Windows Password Rescuer, Spower software etc. Here I will take the easiest one to show you how to hack into a windows.
Steps to hack into a windows 2008:
1. Download Spower software special edition and install it to a accessible computer.
2. Start Spower software, can insert  a USB drive, and then click "Burn to USB" to create a usb password boot disk. Tips: Spower software also supports CD/DVD password reset disk creation.
3. Set the 2008 server computer to boot from USB drive, insert usb password boot disk, and then restart it to boot it from usb drive.
4. When Spower software starts, select administrator count and click "Reset" button to hack the password – a new password will be create for it.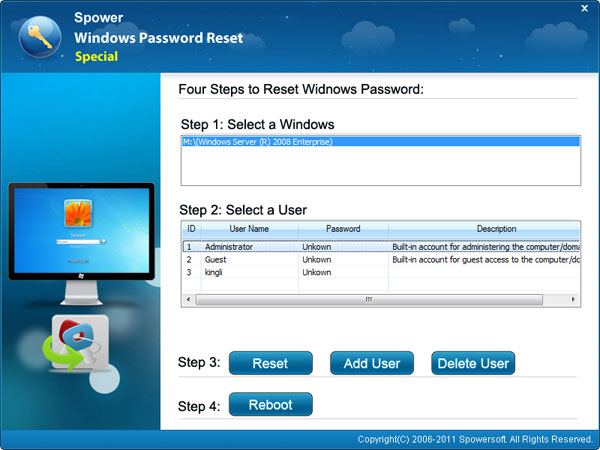 5. Click "Reboot" to restart 2008 server computer, and login with new password.
Method 2: Hack windows server 2008 administrator password with Windows 7 PE live cd.
This method shows you how to hack into windows server 2008 computer via a Windows 7 PE disk and hack its administrator password. To make this method works, you must known much and do much then method 1.
1.  Download Windows PE and create a windows pe boot disk. Step by step guide is here: http://technet.microsoft.com/en-us/library/cc749036%28v=ws.10%29.aspx
2. Boot your 2008 server computer from Windows PE boot disk.
3. When computer boots from Windows PE boot disk successfully, you have hack into your server 2008 computer. You can use DOS command to access files on your server computer.
4. Create a bat file to hack administrator of server 2008. Put the following command into bat file:
net user administrator NewPassword123
5. Edit registry offline to make the bat file run when server 2008 starts.
6. Reboot server 2008 computer and wait for administrator password be hacked. When log on screen appears, you can login with new password.
7. Delete bat file and remove bat file be run item from registry.
Related Articles: