Office 2013 product key finder
Lost your office product key? Office 2013 product key finder can help you find any office 2013/2010/1007 product key on your computer immediately.
If you want a program to retrieve office product key from your computer's registry, carry out the method 1. Method 2 offer you another way to save your product key and make your Office product workable.
Method 1: Find office 2013 product key with product key finder software
Follow the steps below:
1. Download Office product key finder, and install it on the same computer as Office 2013 on.
2. Start Office product key finder software, and click "Start Recovery" to find product key and retrieve them.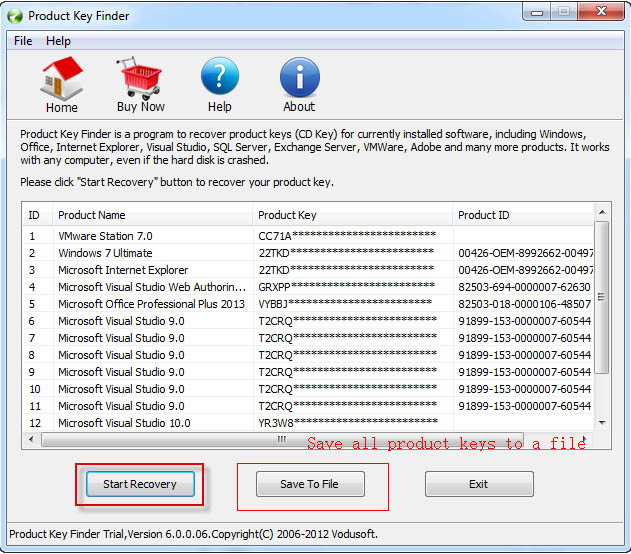 3. Click "Save to file" to save all product to a file.
Method 2: Backup office 2013 product key from register
1. Run "Regedit.exe" program – Start -> type in "regedit" in search box -> click "Regedit.exe".
2. Expand the node "HKEY_LOCAL_MACHINE\SOFTWARE\Microsoft\Office".
3. Right click "14.0" note, and choose "Export" to export all information about the office 2013 installation. Save the export file as office-2013-product-key.reg.
4. Use the office 2013 product key. Install office 2013 on another computer, and then double click office-2013-product-key.reg to import the office 2013 product registry information to registry.