Windows 7 starter forgot password, how to recover with usb?
Windows 7 starter forgot password, and have no reset disk? How to recover the lost password with USB drive? My laptop is hp mini, which have no CD/DVD drive. –
This is a password question asked by yahoo answer member. Here I also show workable ways to solve the problem when you forgot password on windows 7 start.
1. The best way to reset a forgotten password is use windows 7 password reset disk. See http://windows.microsoft.com/en-US/windows7/Reset-your-Windows-password.
2. Recover Windows 7 password with ophcrack. ophcrack offer live cd to create a bootable password recovery disk which can boot the locked computer and retrieve the forgotten password.
3. Reset Windows 7 password instantly with spower password software. You can follow the instructions below to reset windows 7 password and get into windows. Tips: If you are reading this article on a mac computer, you can see http://www.windowspasswordsreset.com/reset-recover-windows-password-on-mac.html#how-to-use for help.
3.1 Download Spower Windows Password Reset Professional and install it.
3.2 Create a Windows password reset disk.With Spower software, you can create a USB password reset disk easily.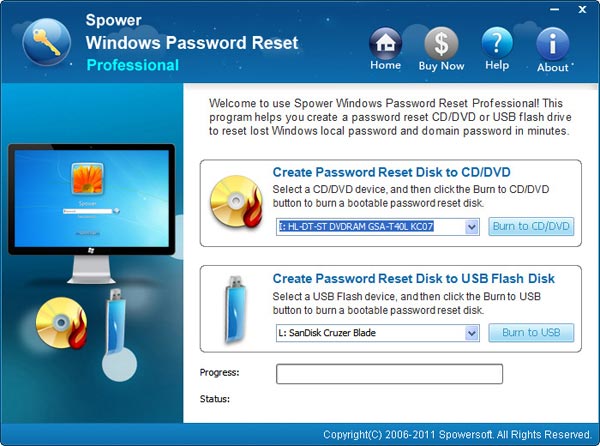 3.2 Set the locked computer to boot from CD/DVD-ROM or USB drive.
3.4 After setting the locked computer to boot from CD/DVD-ROM or USB drive, insert Windows password reset disk to the locked computer, and restart the locked computer.
3.5 When Spower password software starts, select and windows 7 user and then click reset button to set a new password for it .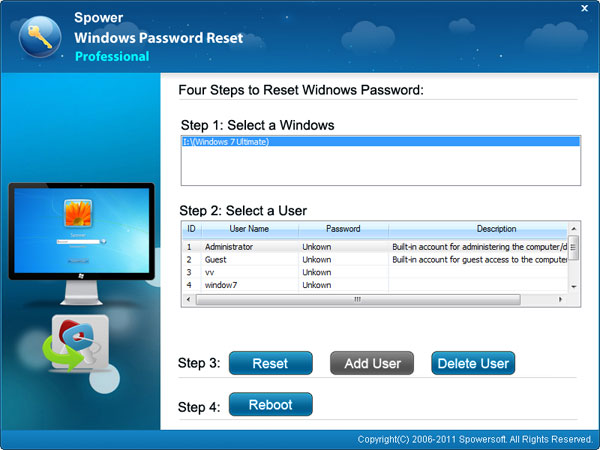 Tags: Windows 7 starter forgot password, Windows 7 forgot password
Related Articles: