Forgot Windows 10 Password on My Laptop How to Unlock?
I forgot windows 10 password on my laptop and have no reset disk. What do I do to unlock my windows 10 computer password?
Do you have the same issue as above? And are you finding an available way to fix the issue? If so I think the following methods can help you solve the problem.
Methods for solving Forgotten windows 10 password issue:
Method 1. Reset the forgotten password with another user account
Before you try other ways to solve the problem, please think about whether have another available user account with administrator privilege. If yes, congratulate, follow this way, then you can fix the problem easily, or go to method 2 or method 3.
Guide to reset password with another administrator user account:
Step 1: Login Windows 10 with the available user account.
Step 2: Start -> Right click " Computer" -> Choose "Manage".
Step 3: Expand Computer Management -> System Tools -> Local User and Groups-> Users.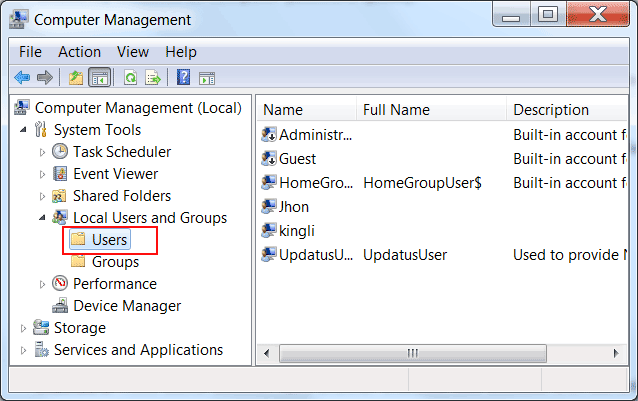 Step 4: Right click the user account you want to reset its password, and choose "Set Password...".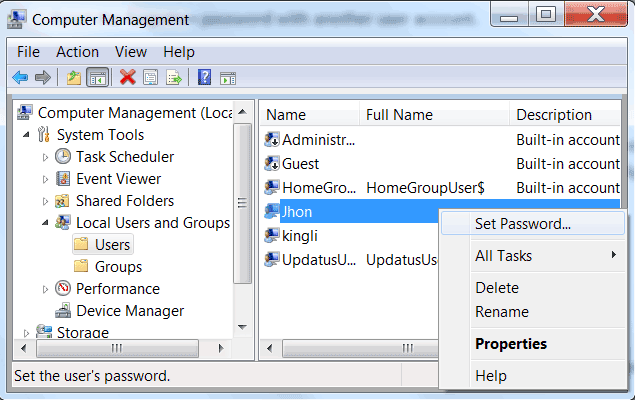 Step 5: Attention! Read the attention carefully, and make sure that do not make important data lost, or you should use Method 3 to recover the password.
Step 6: Type in new  password and click "OK" to finish it, and then you can login windows 10 with the unlock user account and new password.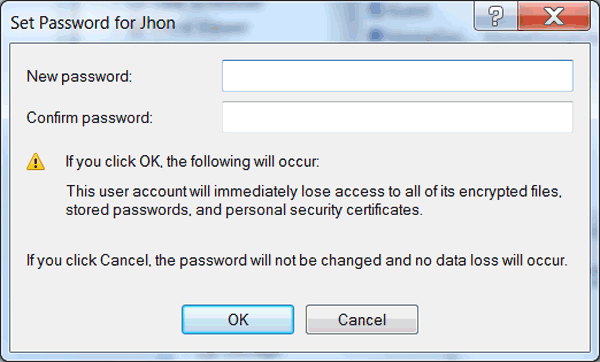 Method 2. Remove Windows 10 forgotten password with premium software
 Except the method 1 and resetting password with windows 10 password reset disk, this is the fastest and the most easily way. But is not free. You need to pay for the premium software.
Many premium software can reset the lost password for windows 10. If you have no idea which one is right
for you, I recommend you get Spower Windows Password Reset Lite ( or SWPRS) and follow the instructions below to unlock windows 10 password.
Step 1: Get full version or trial version of Spower Windows Password Reset.
Step 2: Install SWPRS in another windows computer. Tips: SWPRES can be installed in windows xp/vista/7/8/10/2003/2008/2012.
Step 3: Plug in USB disk to the computer, and run SWPRES.
Step 4: Choose "USB Device", and click "Begin Burning" to make a password unlock disk.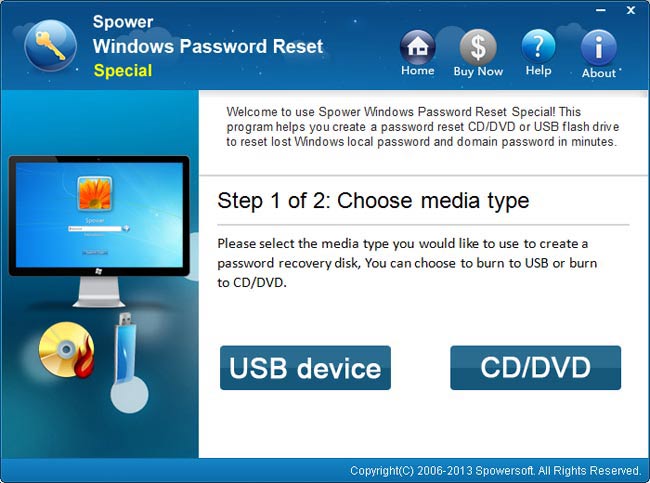 Step 5: After finish password unlock disk creation, unplug it and plug the disk to the locked Windows 10 computer.
Step 6: Follow the instructions in How to set computer to boot from USB drive to boot the locked computer from the USB disk.
Step 7: When you see the following screen, you can choose the locked user account, and click "Reset" to unlock its password.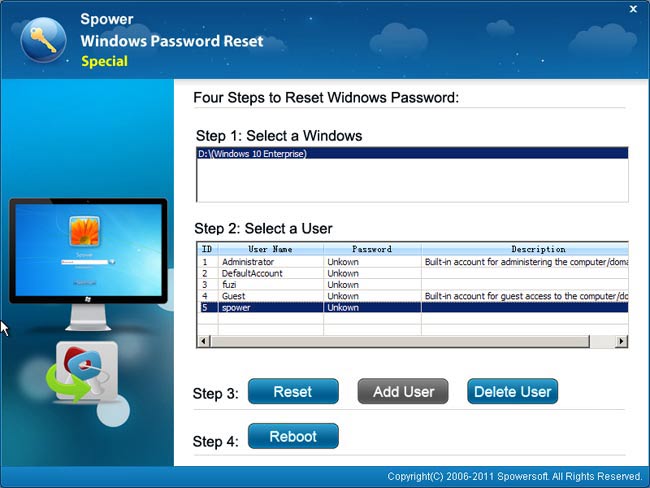 Step 8: Click "Reboot" to restart your computer, and your can login the unlocked account without password.
Method 3. Recover Windows 10 forgotten password with free software
This way is free, but you may meet some problems while using the free software, any you need to spend more time on it.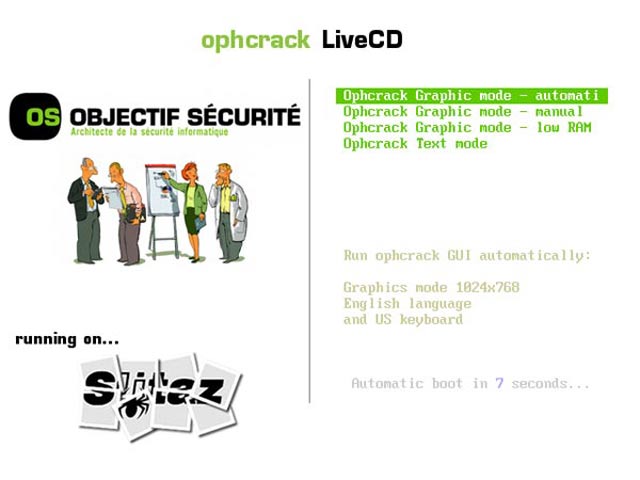 Steps for using Ophcrack to recover windows 10 password:
Step 1: Download Ophcrack live cd to another accessible computer.
Step 2: Burn it to the CD with CD write tool, such as CDBurnerXP, or you can follow the instructions in How to make a Ophcrack USB bootable disk to create a ophcrack USB boot disk.
Step 3: Boot your windows 10 computer from Ophcrack liv cd, or Ophcrack USB boot disk. For step by step guide, see  How to set computer to boot from CD/DVD-ROM and  How to set computer to boot from USB drive.
Step 4: When Ophcrack program starts, and wait for a few seconds, you will see a screen as follow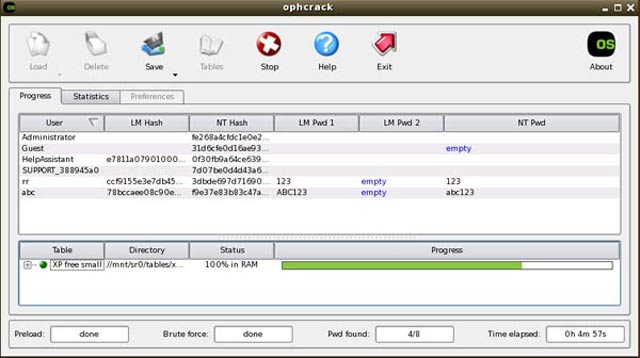 When you see the screen as above, what you do is just wait for the program to recover the forgotten password for every user account. Tips: If the password is strong, the program may fail to recover it.
Related Articles:
Hot Tips
Hot Tags
Testimonials
Very good - very good effort - thank you – I was able to add a user with this version of the tool and logon! As long as the user is a member of the administrators group - I was able to reset the password of an existing administrator type account and logon. So it appears the product works fine now. Thanks, the Windows 2003 PE was a nice touch also!


- Taylor

Now I have set password to all account of my PC. I don't want it to be hacked in a few second.


- Adrian

Dear tech support, many thanks for your em ail. It did work. I am able to remove the admin password. Thanks


- Alfred
Support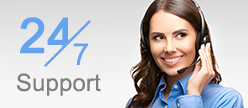 Awards