Windows Server 2003/ 2008/2012 RAID Password Recovery
This article describes how to reset password for windows sever 2003/ 2008/2012/2016 which are installed on RAID 0, RAID 1, RAID 0+1, RAID 2, RAID 3, RAID 4, RAID 5, RAID 5e, RAID 5ee, RAID 50, RAID 6, RAID 7.
This article will help to reset windows 2016/2012/2008/2003/2000 administrator password on HP, DELL, IBM, LENOVO, Asus and Fujitsu raid server.
3 main steps to reset windows server 2003/2008/2012/2016 password on RAID server:
Create password reset disk with Spower windows password software.
Boot the RAID server from bootable password disk.
Reset windows server password with Spower password software.
Step 1: Create password reset disk with Spower windows password reset raid software.
1.1 Download Spower Windows Password Reset Raid (trial version) and install it.
1.2 Insert USB disk or CD/DVD disc to computer.
1.3 Start Spower Windows Password Reset software and create a windows server password reset disk.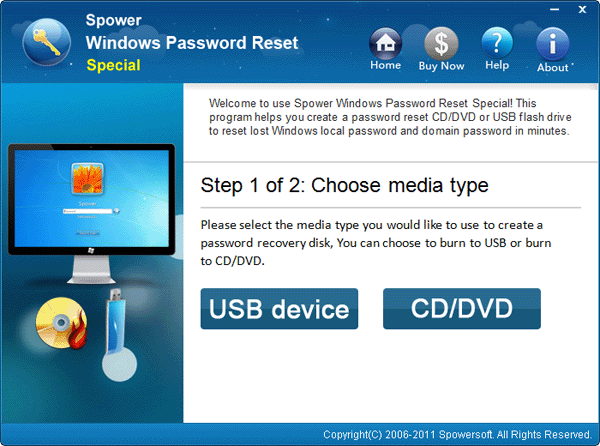 Step 2: Boot the RAID server from bootable password disk and load RAID controller driver.
2.1 Set the RAID server to boot from USB or CD device.
2.2 Insert windows server password recovery disk to the locked server computer, and boot the locked server computer from the password reset disk.
Step 3: When Spower password program starts, select the administrator user and click the Reset button to create a new password for it.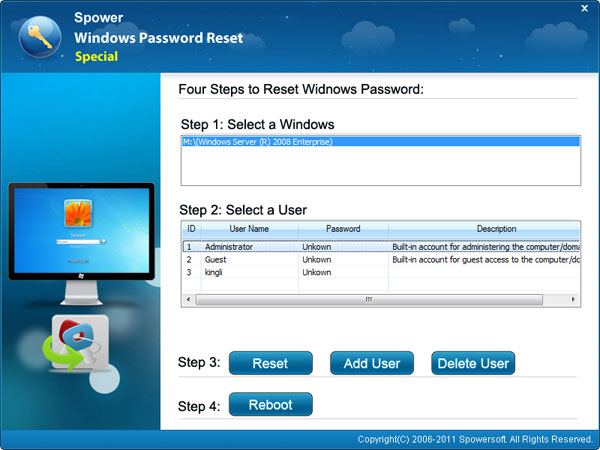 Step 4: Click Reboot to restart raid server, and you can login with new password.
Tips: When the password program starts, if it says "No Windows Found", you can try the following way to solve the problem:
1. Contact us immediately and send you computer model and RAID Controller Model to support@windowspasswordsreset .com. We will fix the problem and send you a new version within 24 hours.
2 Load driver for RAID controller manual. When booting progress bar and the message "Press F6 to load third party driver" appears, Press F6 to start additional driver installation. And then insert additional driver disk to RAID server, and follow the installation instructions to load the RAID controller driver.
Related Articles:
Hot Tips
Hot Tags
Testimonials
Very good - very good effort - thank you – I was able to add a user with this version of the tool and logon! As long as the user is a member of the administrators group - I was able to reset the password of an existing administrator type account and logon. So it appears the product works fine now. Thanks, the Windows 2003 PE was a nice touch also!


- Taylor

Now I have set password to all account of my PC. I don't want it to be hacked in a few second.


- Adrian

Dear tech support, many thanks for your em ail. It did work. I am able to remove the admin password. Thanks


- Alfred
Support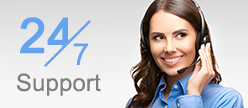 Awards