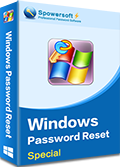 Original Price:$99.95
Now Only:$45.95


Windows Password Reset Special
Spower Windows Password Reset Special is quite a comprehensive Windows password reset software, which can reset forgotten Windows local and domain password for Windows 10/8/7/Vista/XP/NT and Windows Server 2000/2003/2008/2012/2016. Besides resetting password, you can also create a new Administrator account or delete existed account easily as you will. This Windows password reset tool easily help unlock your computer and regain your access to Windows system in minutes by burning a bootable CD/DVD or USB flash drive.


Key Feature:
All Passwords It Can Reset
Reset Windows local administrator password.
Reset Windows standard users password.
Reset Windows domain password.
Establish a new administrator account to re-access.
Delete any existed account instantly.
Change Windows password easily and safely.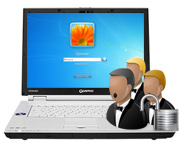 Bootable CD/DVD or USB Flash Drive to Unlock Password
Support bootable CD/DVD. Burn the Spower Windows Password Reset Raid software to a bootable CD/DVD just with one simple click.
Support bootable USB flash drive. Creating a password reset USB drive as well, so that you don't have to cost time and money on buying CD/DVD.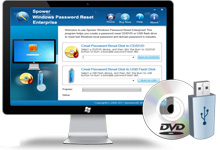 All Popular Windows Operating Systems It Can Reset Password for
Reset for Windows 10, 8, 7, Vista, XP, 2000, NT, etc.
Reset for Windows Sever 2016, 2012, 2008(R2), 2003(R2), 2000, NT, etc.
Reset for SATA, SCSI, IDE hard diak and RAID.
User Guide
3 Simple Steps Only It Needs to Reset
Step 1: Download and Install
Download and install Spower Windows Password Reset Special on an accessible Windows computer, either Win 10/8/7Vista/XP/NT or Windows Server 2016/2012/2008/2003/2000.
Step 2: Burn a Windows Password Reset Disk
Burn the software to a CD/DVD disc or USB flash drive for your convenience to create password reset disk.
Step 3: Reset Password
Reset your Windows password by inserting the already-created password reset disk into your locked computer to reset your original password or create a new administrate account to log in.
>>More Detail: Windows Password Reset Special Guide.
How To Use
Hot Tips
Support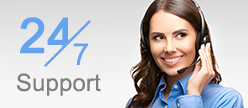 Testimonials
Thankyou for fast response.
Excellent customer service
You guys are amazing
But one question – I don't understand (even though it worked) how can a 2003 version work on a 2008 and yet the new program I downloaded that suppose to work on everything from here backwards did not.
Would I be having a problem in the future with the rest of my laptops and desktops as they are all DELL??
Also the program link below is that only for servers?
Bottom line it worked
Gongrats to you for a great support


- Tricia

I have bought Spower Windows Password Reset Ultimate edition, it is so good that it helped me reset my Windows 7 password in a few minutes. Before this I had tried a lot of methods found on internet, but just waste of time. Thank you very much.


- Canvan

Thanks to your Windows password reset tools, so that I could reset Windows 2008 domain password instantly to log into the password-protected computer. I will recommend this utility to my friends for sure.


- Sakoto
Awards