How to create a password reset disk for another computer
"I lost my hp windows 8 login password, can i create a password reset disk on another computer, and use it to reset my windows 8 password?" – Kivin
As a computer administrator, I will give you a desired answer – You can do that definitely. However, you will fail if you try the solution 1. The solution 2 which works perfectly shows you how to create a windows password reset disk for another computer, and it is the one I want to introduce to you.
1. Create a password reset disk by the Windows Control Panel and User Accounts and Family Safety, and use it to reset the lost password for another computer. You will get a failing message says that the password reset disk is incorrect for this Windows. This because the Windows password reset disk can only be used on the Windows who created it.
2. Create a password reset disk with Spower password recovery software and use it to recover the lost password on another computer which is locked. With Spower Password Reset disk, you can reset lost password for Windows 8, 7, vista, xp, 2012, 2008, 2003 and 2000 on any computer. Now you can follow the instructions below to create a Spower password disk.
Steps to use Spower software to create a password reset disk for another computer:
Step 1: Get Spower password reset software and install it to a accessible computer.
Step 2: Insert USB or CD/DVD disk, and start Spower password software to make a password disk.
Step 3: Set the locked computer to boot from USB or CD drive. You can follow this guide to set your computer to boot from USB or CD device. http://www.windowspasswordsreset.com/blog/how-to-set-your-comptuer-laptop-boot-from-cdusb-drive-quickly/
Step 4: Boot the locked computer from Spower Password disk.
Step 5: When Spower password software starts, it will show your Windows and Windows user account. You just need to choose the right windows and right user, and then click "Reset" to reset its password.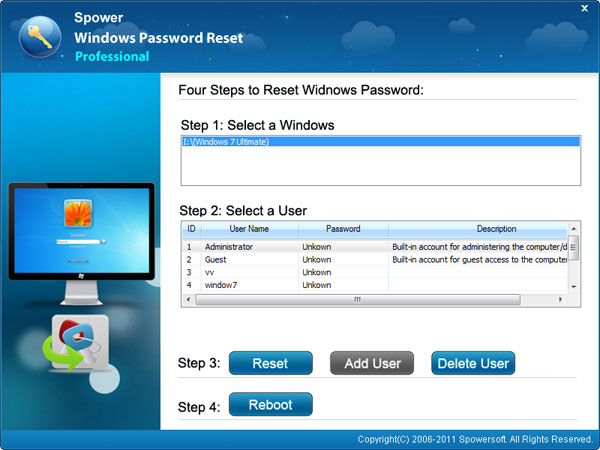 Step 6: "Reboot" computer and login with new password.
Related Articles: