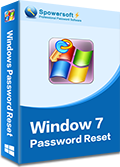 Original Price:$19.95
Now Only:$14.95


Spower Windows 7 Password Reset - Recover Windows 7 password for any PC instantly
Spower Windows 7 Password Reset is a reliable and efficient program that can help you reset (recover) windows 7 password for desktop PC and laptop safely and fast. With this software, you can create a USB or CD/DVD password reset disk and reset the lost password for your Windows 7 at any time and any where without formatting your hard drive and reinstalling windows. It will save much your time when you forget your login password.


Key Feature:
Reset windows 7 password for any user account
Reset (recover) Windows 7 without old password.
Support USB or CD/DVD password reset disk creation.
Simple and fast - easy to use.
Reliable and safe - 100% success rate.
Safe - Don't make any data lost.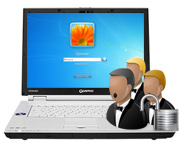 Reset Windows 7 Password within 3 Simple Steps
Step 1: Download and install Windows 7 Password Reset on an accessible Windows.
Step 2: Burn Windows 7 password reset Image file to a CD/DVD disc or USB flash drive to create a password reset boot disk.
Step 3: Boot your locked computer from password reset boot disk, and reset Windows 7 password to blank.
>>More Detail: Step by step guide to reset windows 7 password.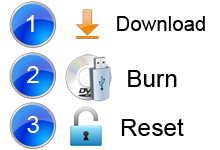 Windows 7 Password Reset only can recover windows 7 password. If you want to recover local and domain password for Windows Vista, XP, 2008, 2003 and 2000, you can use the following Windows Password Reset software.
---
Q1: I forgot my windows 7 admin password, do i can recover my windows 7 password with this software?
A:Yes! Windows 7 password reset works well with windows 7 home basic, windows 7 home premium, windows 7 professional, windows 7 ultimate. See step by step guide to reset windows 7 password.
Q2: Does Windows 7 Password reset tool can recover domain user password on windows 7 home premium? I have a windows 7 workstation which connect to a windows server 2008 r2 domain server and do login verification throught 2008 server, but I forgot that domain user password, and now i cannot login my windows 7. The administator user of windows 7 is disabled. I want to known how i can get into my windows 7 system without reinstalling windows. Does this windows 7 software can reset the password for that domain user?
A: Sorry. Windows 7 Password Reset Tool does not support domain user password reset. You can get the Ultimate or Special edition to reset a domain user password on domain server.
Quick Links
Hot Tags
Support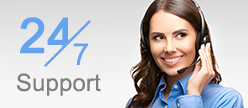 Testimonials
I use your software to remove a administrator password on windows 7 home edition with NTFS partition without formatting the system successfully. Thank you very much.


- Roben

Windows 7 Password Reset is a professional windows password reset tool for those who have been locked out of computer. It is smart to empty the previous password without erasing anything.


- Keven

Thanks a lot, Number 1 did the trick. I must have got it wrong the first 20 times I was in the bios :-)
Thanks to you, I can now use my pc again.
Best wishes


- Claus
Awards