How to boot computer from USB disk via UEFI mode
Summary:
This guide tells you a new way to boot your computer from USB disk via UEFI mode. If you want to set your computer boot from USB drive via Legacy BIOS mode, see How to set computer to boot from USB drive
Read more about UEFI and BIOS: See what is UEFI, and what is BIOS.
See if your computer support UEFI.
Guide to boot computer from USB disk via UEFI mode
Step 1: Inset USB disk to computer.
Step 2: Start or restart your computer. When the vendor logo appears, press down Boot Menu key until Boot Menu appears. Find Boot Menu for your laptop.
Step 3: Choose UEFI USB flash disk, and press enter to boot from USB drive.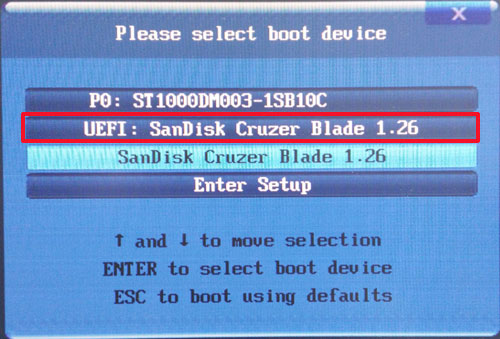 Boot Menu Key Table:
| Manufacturer | Model | BIOS Entry key |
| --- | --- | --- |
| HP | Desktop, Laptop | Esc or F9 |
| DELL | Desktop, Laptop | F12 |
| Acer | | F12 |
| Lenovo | Lenovo | F12 |
| Gigabyte | | F12 |
| MSI | | F11 |
| Samsung | | Esc or F12 |
| ASUS | Desktop | F8 |
| ASUS | Laptop/ Eee PC (Eee PC 1015, 1025c) | ESC |
| ASUS | Notebook. K-series (k25f, k35e,k601,etc.), X-series(x32a,x501a, x502c, x750ja, etc) | F8 |
| Gateway | | F12 |
| Thinkpad | | F12 |
| Fujitsu,Toshiba | | F12 |
Now you can instantly reset windows password:
User Guide
Hot Tips
Hot Tags
Testimonials
With Spower Windows Password Reset Professional, I reset my Windows server 2008 admin password finally and regain access to Windows.


- George

Thanks to Windows Password Reset Ultimate, I can logon my server now. It is powerful Windows password software.


- Kevin

Thanks to your Windows password reset tools, so that I could reset Windows 2008 domain admin password instantly to log into the password-protected computer. I will recommend this utility to my friends for sure.


- Ross
Support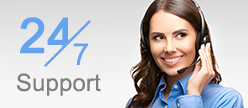 Awards